It's no secret that everyone in a home business needs a few unique and foolproof ways to get new leads every single day if they are going to get ahead.
Jim Rohn who is one of my favorite business philosophers of all time said…
"If you do something often enough, a ratio will appear" – Jim Rohn
What he was saying is that when you doing something over and over, eventually you start to see your numbers emerge.
Knowing your numbers is something like this. For every ten people, you get one to sign up.
The law of averages is different for everybody and the more you do, the better your ratio becomes.
One of the major keys to making the law of averages work for you is to increase the number of people through the front door.
In order to get a better ratio, you have to have more to talk too!
Here a 4 different ways you can leverae online strategies to get people reaching out to you every day.
#1: Create an eBook/report
Creating An ebook or a report of some sort that is relevant to the products and services you offer is an excellent tool for lead generation.
Not sure what an ebook is? Here is the official definition for you.
An

eBook

 

is an electronic version of a printed book that can be read on a computer or handheld device designed specifically for this purpose.
There is mainly two reasons this is a great approach.
1. Establishes Credibility and Authority
By writing an extensive ebook/report that provides a solution for people and gives great details on how to do it, you are automatically elevated in your prospects mind.
Being seen as an authority makes closing the sale or getting the sign up much easier than just cold marketing alone.
2. Great For Lead Generation
All through your ebook you can reference resources and you can put your affiliate links in there so if people buy of sign up, you get paid.
This is a great way to drive people to your capture pages and it's highly targeted because they are consuming your content in the process.
A great way to create an ebook is to record your voice and have it transcribed.
You can use a mobile phone app to record your voice on a specific topic and then submit it to a site like Rev.com and have it transcribed.
This is a quick and easy way to create your eBook/report without having to write it yourself, but to have it in your own words.
When choosing a topic, make sure you outline it first and be sure to talk about the struggles of your market and then provide the solutions for them.
If you want to get access to some more in depth train on this topic, you can check out a really great training by my friend Keysha Bass.
This girl is a marketing rockstar and went pretty in depth on this topic recently. She also provided a PDF for you to down and use when creating your ebook.

Click Here To Access The Ebook Creation Training
#2: Tap Into The Marketing Power of Facebook
I could create post after post talking about the power of Facebook.
There is just so many ways one can leverage this platform to get leads for their business and attract to you the exact people you want to work with daily.
Here is a list of the many ways one can use Facebook to attract new prospects
Mobile Ads – The ability to build your email list on mobile phones where people can opt-in to your offers with just two taps on their phone.
Video Ads – Perhaps one of the most powerful ways to drive traffic and engagement by leveraging videos.
Networking in groups – The heart of Facebook is the connection with other humans. Groups provide a great way to do that.
LIVE Videos – Without a doubt probably one of the most powerful and quick ways to generate leads leveraging your existing audience.
Native Advertising – Basically creating content and advertising that content on Facebook's ad platform
The five ways listed above are only a few of the options you can use to build your list.
What makes Facebook so good is the social aspect to it. Not only can you build a list, but you can also socialize with that list.

Here is a list of recent blog posts I have done regarding Facebook that you might find useful as well.
10 Quick and Easy Ways To Generate Leads on Facebook
The Fundamental Key To Successful Facebook Marketing
Using Facebook For Marketing? Three Critical Points To Understand
Two Main Assets To Focus On For Audience Building
One of the first places I recommend you get started with Lead Gen on Facebook is using LIVE videos.
Click Here To Access Facebook LIVE Training
#3: Email Marketing Still Rules
Email marketing is an AMAZING way to sell products and attract new people into your business.
If you ever thought that email was outdated and not effective then you would be SEVERELY wrong.
Email is still the most intimate form of marketing there is today.
Why?
Because the email inbox is personal. It's the place where people get messages and information that they care about.
When you can be in front of people in their most personal space, that's always a win.
With that being said, there are three tricks in using email to market to people.
1. Leverage Solo ads
This is where you actually purchase access to someone else's email list and send an email add to their subscribers. There are many resources out there for solo ads one of the biggest is Udimi.
I have never personally used Udimi, but I have heard good things about it from some of my coaching clients.
The best way to use it is to test it out and see what kind of results you get yourself.
2. PS Lines
This is such a great way to send traffic to offers and it is highly underused.
Typically the people that click on email PS lines are the most engaged prospects because they are the ones reading your emails.
One of the reasons it is so effective is that it is very passive in nature and therefore doesn't throw up a wall usually in the mind of a person when clicking it.
Here is an example of what I mean with email PS lines.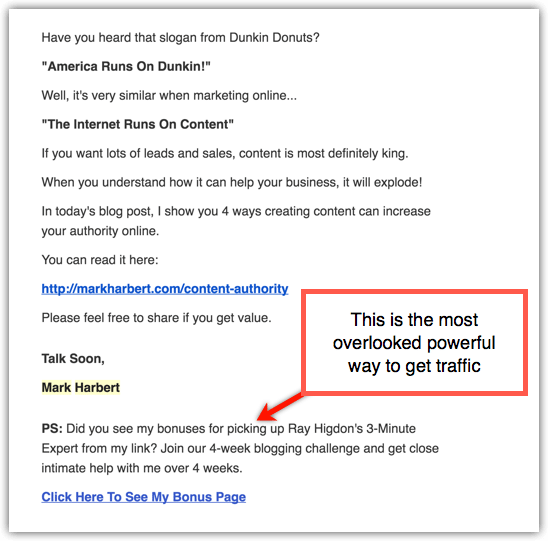 3. Effective Copy Writing
This is perhaps the most important part of creating effective emails that attract people to you.
Back in 2012, I created a course with a buddy of mine Called "Tube Traffic Mojo" and with that course we had a bonus called "Copy Writing For Beginners" that I am going to give you access to here for FREE!
This information is timeless and gives you a simple way to write effective emails that work.
If you truly want to master copywriting which is something that I believe is the highest paid skill you can develop, then I recommend you pick up my buddy Brian Fanale's course called Copy Writing Mastery.
It is the most comprehensive Copywriting course I have ever seen and I highly recommend it.
Click Here To Check Out Copy Writing Mastery
#4: Twitter – Tweeting Has Never Been So Fun

For the longest time I never got twitter. I mean, it just made zero sense to me.
But now I get it.
As a matter of fact I have generated 100s of free leads from twitter following a very simple and easy strategy.
As a matter of fact, a lot of what you can do on twitter will take you about 5-10 minutes a day.
The initial set up process is a little time consuming, but once its done, you can send traffic anywhere you want.
My buddy Adam Chandler did an AMAZING training not too long ago inside of MLSP on exactly how to set up your Twitter lead machine.
Do this right, and you can have people contacting you daily.
Click Here To Access The Twitter Training
What Is Your Favorite Way To Get People Reaching Out To You?
Comment below and let me know..
Also, feel free to share this post if you get value from it!
You rock,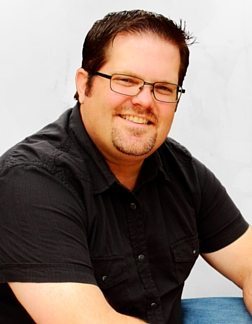 Mark Harbert
PS: If You Are Still Not Sure Where To Start Online, I Recommend You Start Here