Congratulations for finding this page and for doing your due diligence on LifePharm Global.
You are either here because you are currently with the company, or you looking into LifePharm Global to see if it is for you or not.
Either way you will find this article to be very informative about the company, the product, and the compensation plan. This will help you to make some decisions on how to proceed.
LifePharm Global – About The Company
LifePharm Global is a company based in Southern California and is in the business of developing, marketing and distributing all natural supplements in the retail sector in six countries.
It has developed an extensive media and branding campaign. It offers high quality natural supplements which are produced in the U.S. LifePharm's management and its shareholders have over 150 years of experience in the industry.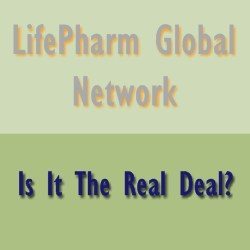 All of the company's products are manufactured according to the strictest practice standards and are backed by a multi-million dollar liability insurance policy.
This was one of the first supplement companies which used popular celebrities to promote and endorse their products in Asia.
LifePharm Global has more than exceeded its sales expectations and has become one of the top selling brands.
In 2004 LifePharm became a public company and by the end of 2006 had reached their goal and had become a household name in several countries.
In 2007 they once again became a privately owned corporation. Today LifePharm Global continues to play an active role in the global nutraceutical and cosmeceutical industries.
LifePharm Global – The Compensation Plan
LifePharm Global has a generous compensation plan and gives each distributor LPG products, a website and a back office for their business with a distributor training kit.
You get a fast start bonus when you enroll – LPG will pay you a percentage of the personal CV on each new distributor sponsored and you'll get your shipments of Laminine free every month.
You will also be paid a bonus for each distributor you have enrolled. It only gets better as you progress with many different levels of success and bonuses.
This compensation plan is made with each distributor's needs in mind.
[media id=8 width=600 height=360]
LifePharm Global – The Products
LifePharm's flagship product is Laminine which is a unique one of a kind product that has an 80 year history of helping others and is available for distribution to all members worldwide.
Laminine is a natural, synergistic, super food which is known to contain the most important vitamins, trace minerals and all eight essential amino acids as well as other nutritional elements.
It will give your body a boost and the stamina it has been lacking. Laminine will have a positive effect on your physical, mental and emotional health.
Intenz Skin Activator is based on a timed release formula and for 12 hours the essential ingredients will help to deep cleanse, repair, regenerate, revitalize and protect the skin.
Tummi Trim Abdominal Fat Blaster is a great weight control formula that helps to reduce abdominal fats and is made of clinically tested all natural ingredients. It speeds up the body's metabolism, breaks down fat deposits, converts fats into energy and firms and flattens abs.
JF7 Joint Formula a combination of natural ingredients which will soothe joint discomfort and improve mobility within 7 days or less.
Procyan Advanced Hair Solution is scientifically formulated with all natural active ingredients to enhance the appearance, feel and volume of hair.
It will stimulate hair growth, improve scalp condition and reduce dandruff as well as make hair thicker and healthier. Its formula is known to convert the telogen (non-growing phase) into the anagen (growing phase).
LifePharm Global – How To Be Successful With This Company
I think it's clear that LifePharm Global is a solid company, with a solid compensation plan, and a solid product.
Even with all that in place, how will one be successful with this company if they don't plug into a leader that can show them the way?
To be successful in network marketing you must be able to put your opportunity in front of big numbers of people to really bring in the money. Therefore one of the essential skills one must learn is lead generation.
Friends and family are a great place to start with your business, however it is a bad place to finish while building your LifePharm Global business.
Most in the industry will go through their warm market and then have no where else to turn. They will then quit and move on.
This is why it is absolutely essential to learn this valuable skill. When you can run the numbers, a lack of skill can be compensated for by purely running through the numbers on a greater scale.
So what is the best way to start generating leads?