I was born and raised in Southeast Michigan in a small town named Clarkston.
As soon as I graduated high school I entered the US Navy where I served on a Navy ship called the USS Aubrey Fitch. That was one of the coolest experiences for me to serve our country.
Here is a cool picture of the ship I was on during my short stint in the Navy.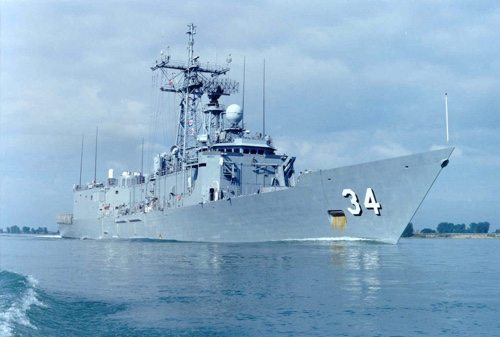 I was first introduced in the year 2000 to network marketing when I met with a gentleman at a Denny's restaurant for a sit-down presentation. Not only was my excitement level through the roof, it was then that I got the freedom bug.
Since that very moment, I have always had a passion for the industry and the freedom one can attain if they put their head down and go to work.
Because I was able to see the vision that day,  life for me over the past few years has been a dream come true. I have connected with people and individuals that have had a massive positive influence in my life, family, social influence and business.
I have since gone on to become a multiple 6-figure earner annually and taught thousands how to leverage the power of online video to boost traffic, leads, and sales.
I have won several marketing awards and walked the stage at many events.
I have also spoken in front of 1000's of people training and teaching the strategies that have helped me build my online empire.
The cool thing was, I built my business living in Concepcion, Chile for 4 years. I just recently moved back to the USA (February 2014) with my family to build my business further and attend more events.
I have a wonderful family. My wife Juany is my best friend. I have an awesome 10-year-old daughter named Nicole.
We are currently residing just outside of Tampa, Florida.
I work my business full-time which allows me to spend as much time with my family as I want. I get to go where I want, help whoever I want, and make a difference.
let me know what I can do to help you get to where you want to go!
YOU ARE THE BEST, AND DON'T LET ANYBODY TELL YOU DIFFERENT, EVEN YOU!
My Personal Vision Statement
I Mark Harbert, walk forward with a clear vision: To reflect and manifest the goodness of God in all categories of my life.
My ultimate goal is to be a living example and a facilitator of life's true freedoms by living abundantly spiritually, mentally, physically, and financially.
Keeping God first is my number one priority. I will strive to raise a happy and healthy family with my wife and daughter, I will work heartily unto the Lord in my business by conducting myself with strong ethical standards and honor.
I will continually strive and focus on helping others to achieve their goals and dreams. I will give back to my community true value with thankfulness.
I will always be a lifetime learner of God's Word, and will strive to continually develop into a person of character and Godliness. I will be an outstanding citizen in my local community; I will grow inwardly and outwardly as a servant leader because true joy comes in service to others.
Overall I seek to bring glory and honor to the one true God and father of my Lord Jesus Christ, who has blessed me and given me a life I could have never dreamed of on my own.
Here Is What Others Are Saying About Mark Harbert….