You are here for one of two reasons, you are a current distributor looking for information on Nerium International to help you build your business, or you are looking at this business for the first time, and want to get some additional information to help you in your decision.
Either way, you will find this article to be informative and enlightening at the same time. The important part is that you are searching and doing your due diligence and that is something not everybody does, so congratulations.
So lets dig in….
The Company Nerium International
With the simple vision of making peoples lives better, the company Nerium International has been successful in transforming their customers not only into youthful and beautiful people, but also into successful and financially capable individuals as well.
Through the genuine scientifically based product of the company and through the business opportunity they offer their customers, both personal and professional development is likely to happen. The company was founded by the Olson family consisting of Jeff, Renee and their daughter Amber.
I can personally speak for the credibility of Jeff Olson as I was involved in Prepaid Legal (Now, Legal Shield) when he was with the company, and he is a genius when it comes to building network marketing organizations.
I had the pleasure of meeting Jeff once at an event in Southern California and saw that he was genuine individual with a drive to succeed. Not only are his philosophies on personal development great, but he is a genuine person and very savvy businessman as well.
[hcshort id="11″]
Nerium Skin Care and Its Products
Nerium International promotes the line of skincare products NeriumAD by Nerium Skin Care. This line of skincare products utilizes the benefits of the plant Nerium oleander. During a research study conducted on the uses of the plant, scientists accidentally discovered how the plant can actually be a very effective ingredient in age defying skin care products.
From this discovery is where the NeriumAD was created and developed. The extraction of the substance from the Nerium oleander plant, called NAE-8 extract is used as an actual ingredient in the creams. This process is called NBio-PL2. This breakthrough method of extraction was developed by scientists in the US, Turkey, Germany, Switzerland, and Latin America.
Compared with thousands and thousands of skin care products in the market nowadays, NeriumAD offers a unique and exclusive skin care product for its customers. Research about the product is ongoing and the products continue to be developed to keep the skin healthier and look more youthful. The skin care line includes NeriumAD eye crams, age spot creams, blemish creams, and contouring lotions.
Nerium International – The Compensation Plan
Nerium International offers a great business opportunity for individuals who are interested in joining the family. Yes, the company calls their distributors a family simply because the company believes that a family that works together stays together.
The company doesn't leave a single member alone in the business, but instead they help each other to be successful. Brand partners as the company likes to call them, will be given the following for their business:
Products exclusively for sale
Excellent marketing system and strategies
Profitable compensation
Tools and training seminars
Strong and helpful working community
Rewards, acknowledgements, and recognitions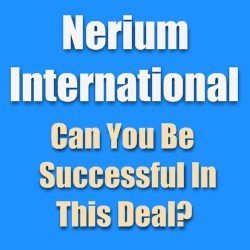 The products are created from the Biotech Research institution of Nerium International and is then developed further and packed by Nerium Skin Care. Nerium Skin Care delivers its products to Nerium International from where Brand Partners will get their share of products to sell to consumers at profitable prices. Profits are paid to brand partners and then to help the funding of Nerium's Biotech Research.
This joint venture between Nerium International and Nerium Skin Care enables the Brand Partners a greater money-making opportunity though the sale of exclusive and revolutionary skin care products. Thirty percent of Nerium International's profit will be given back to Nerium Skin Care to help with the accumulation of funds needed for ongoing scientific research on the products.
Successfully Marketing The Nerium Opportunity
You can see that this company is solid and has a great leadership team backing it with great infrastructure. It's hard to argue when a great company comes together like this and puts a great product together with a family atmosphere.
Regardless of the fact that Nerium International is a good company, most will still continue to struggle with this opportunity because they have failed to develop the essential skill of lead generation. The majority of individuals fail in this industry because they lack the ability to put enough numbers through the pipeline.
Lead generation is so essential that literally your business will succeed or die based on this skill alone. Leads are the lifeblood of your business….end of story.
With this essential skill being of utmost importance your attention needs to be focused on how you can use tools like the internet to reach a global audience seeing that Nerium International is a worldwide opportunity.
So what is the best way to learn the skill of generating your own exclusive leads?
Click Here To See The Exact Blueprint I Use To Generate My Own Exclusive Leads Online, and How I Went From Being A Broke Laid Off Corporate Salesman, To A Full Time Husband and Father Living The Life of My Dreams And How You Can Too In Your Nerium International Business!