Seeing that we live in a time where the world economy is getting worse each and every day, there has never been a better time to start a home business.
The truth is a single day job is not cutting it for most people and by having your own business you are in control of what you make.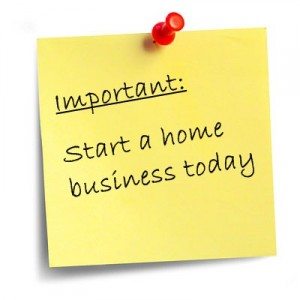 There are many business models that you can choose from if you choose to start a home business.
The best in my opinion is to consider joining a network marketing company.
The multi-billion dollar industry of network marketing or direct sales has many benefits to the aspiring entrepreneur.
While I could literally list thousands of reasons you should consider this business model, here is a few of the top reasons:
Reason #1 To Start A Home Business: Personal Development
In my personal opinion this is probably the most beneficial aspect of being a business owner.
I have never enjoyed anything about entrepreneurship more than learning and getting better skill sets.
The greatness of network marketing or direct sales is not only does it develop your business skill sets, it also helps you become a better leader, a better teacher and a better mentor to other people that join you or choose to work with you.
This is by far one of the best and most rewarding reasons to start a home business in this industry.

Reason #2 To Start A Home Business: Sales Training

You might be saying right now….yuck, "I hate sales" but the truth is without sales, a business will not succeed… period.
Why do you think Apple is so big? Sales
What about Costco? Sales
How about Amazon? Sales
There is no business on the planet that succeeds without sales of some sort.
Network marketing will provide you the knowledge and training on how to put yourself at the center of the learning to sell and distribute product.
The industry will teach you approaches and techniques that will make the sales process smooth, and a lot easier to handle.
Here, you will learn how to properly deal with people and build meaningful relationships with them as you grow.
This is an invaluable skill set that will help you make money for years to come.
Reason #3 To Start A Home Business: To Mentor And Be Mentored

 As a new-comer to network marketing, you'll find yourself entrusted to well-experienced individuals who have been in the business for many years.
They will teach you the ins and outs and give you useful knowledge that you will later give to your own team members.
You'll have the chance to meet mentors and leaders that you can learn valuable lessons from each and everyday.
Once the knowledge is imparted to you, you can use that knowledge to help others do the same thing, and get the same results.
I think just based on these 3 points alone is a great reason to start a home business in the network marketing or direct sales industry.
You simply will not find a better business model for beginning entrepreneurs and those aspiring to start a home business.
With hard work, focus, and dedication, you can have your own business and be successful. Good luck!
WANT TO START A HOME BUSINESS, BUT DON'T KNOW HOW? CLICK HERE