There is probably two reasons you are here and looking into Send out Cards.
You are looking into the company itself to see if it is a legitimate company, or you are an existing distributor looking for information on how you can build your Send Out Cards business effectively and efficiently. Both are good reasons, and good for you for doing your homework and getting educated.
First, I want to tell you that Send Out Cards is a very legitimate company with a tremendous leadership team backing them. Not only is it a very popular network marketing company, but they are also very credible and a good choice if you are looking for a solid company. So lets dig in…
Send Out Cards – The Company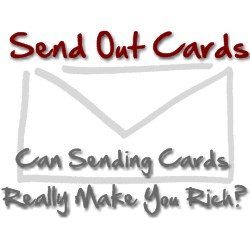 Since the year 2004, Kody Bateman has been running the online gift giving and greeting card company Send Out Cards.
Over fifty million cards have been made and sent out by the company to different individuals and families around the world.
Aside from being a mailing company, Send Out Cards is also a fast growing networking company, providing jobs and providing financial success to its members and employees.
People's daily lives can be exhausting at times, but a simple and personalized greeting card can can change someones day for the better.
Being able to touch a person' life with an online greeting card is one of the company's main goals, and the company has been doing it successfully since it's inception.
Send Out Cards – The Product
The Send Out Cards Company performs its services through simple methods. When a customer wants to give someone a greeting card, he or she can easily make one online in less than 60 seconds.
The company's online greeting card service allows the customer to choose easily and quickly from their collection of custom cards. The customer can personalize the card as well by adding photos or images and personal messages.
After clicking the send button, the finished greeting card will be printed, stuffed, stamped and then delivered to the receiving mailing address, all of which are taken care of by the company.
[youtube width="560″ height="315″]http://www.youtube.com/watch?v=ZQm8khOxycI[/youtube]
Send Out Cards – The Opportunity
As a network marketing company, individuals interested in joining Send Out Cards are given an opportunity to start their own business. There are two ways to get started: First is simply to be a customer and the second one is to be an independent distributor.
Send Out Cards customers with a monthly subscription or with a pay as you go option can buy points in the company which they can use to access the company's system. From there, customers will be able to create and send greeting cards as well as gifts and other products from the company's photo store.
The second method, which is being an independent distributor, provides one with the basic getting started tool kit. The independent distributor has a greater opportunity for a higher income. The distributors can enroll customers and get lots of commissions.
The following are the prices and plans for those interested in joining Send Out Cards:
Option 1 – Customer Package
Pay As You Go – Customers can buy points by purchasing the products. A point can cost as low as forty-nine cents only. The cheaper the points will be if customers will buy more points.
Monthly Subscription – Customers can automatically buy points which are added to their accounts monthly. With a monthly subscription of thirty-one cents, the preferred price per point s thirty-one cents as well.
Option 2 – Independent Distributor Package
Marketing Distributor – For the price of $295, the interested party or individual will have a sales kit, a license, training course, an online back office, a retail website, DVDs, chance to earn bonuses and commissions, tickets for Treat'em Right seminar, unlimited space for storage of photos, cards, etc, and an instant 200 points upon first purchase.
Certified Training – The $345 fee for training allows one to learn much about building his or her online Send Out Cards business successfully.
Send Out Cards – Marketing This Business Successfully
As you can see from the this review, Send Out Cards is far from being a scam. As a matter of fact its a great company, with a solid product, and an excellent opportunity for all those that wish to get involved. You will not find many people who don't like to receive greeting cards, so the market is ripe with customers.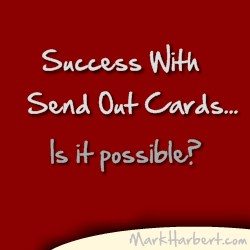 As great as an opportunity as Send Out Cards is for the average person, many will struggle in this opportunity because they do not have the essential skills needed to get their message out to the masses on a daily basis.
The best products sit on the shelf and collect dust unless they are marketed and advertised. Most in the network marketing industry have no clue about how to market or generate leads. The truth of the matter is that leads are the lifeblood of your business, and without them you have no business.
If you don't have people to talk too regularly, you will make no money in Send Out Cards. The problem is most people teach you how to bug your friends and family into submission, or go and purchase leads from a lead vendor.
However, in order to have success in Send Out Cards, you must focus on becoming skillful at lead generation.
This is an invaluable skill that will pay you major dividends with any opportunity you are a part of and represent including Send Out Cards.
So the question is, how does one begin to learn how to generate their own leads? Check this out…