It's no secret that LIVE video broadcasting is the rage today.
Not only is a great way to connect with your audience, but it's also an amazing way to get more leads, sales, and sign ups in your business.
The best places to look at broadcasting is Facebook, Periscope, and YouTube live.
One of the challenges people have when doing LIVE videos is getting an audience to not only watch their videos but people also wonder what to do with the video after they have created it.
This blog post will show you how you can take your live videos and squeeze every bit of marketing juice you can get out of them.
#1: Upload Your Video To YouTube
Every time I do a LIVE video I do it from my mobile phone. After I do the video I save it to my phone. Both Facebook and Periscope give you this option in their settings.
Once you have saved your video, you want to open up the YouTube app and follow the pictures below.

Uploading it from your mobile phone is the easiest and quickest way to do it while you are on the go.
However, if you want to do more optimization so your video shows up in search, you can still upload here, leave the privacy set to "Private" and go back when you are on your home computer and do your optimization for SEO purposes.
I talk about this extensively in my No-Fear Video Marketing System. If you want access to my free video series where I go more in depth about this Click Here.
Also, as you focus on building up your YouTube channel with subscribers and an audience, you will get views to your videos from people that are not able to catch you on Periscope or Facebook LIVE.
#2: Create A Blog Post And Embed Your Actual Live Video
This is a great way to not only repurpose your content but also to get additional views and exposure.
Many times when I do a live video, people don't see it. My goal is to make sure that my audience has every opportunity to see that video.
I will create a blog post around the very same topic that I talk about in my blog post and possibly even expand upon it a bit.
Once I have done that, I will take my video, typically from my Facebook page and embed the actual video in my blog post.
Here is how you do that…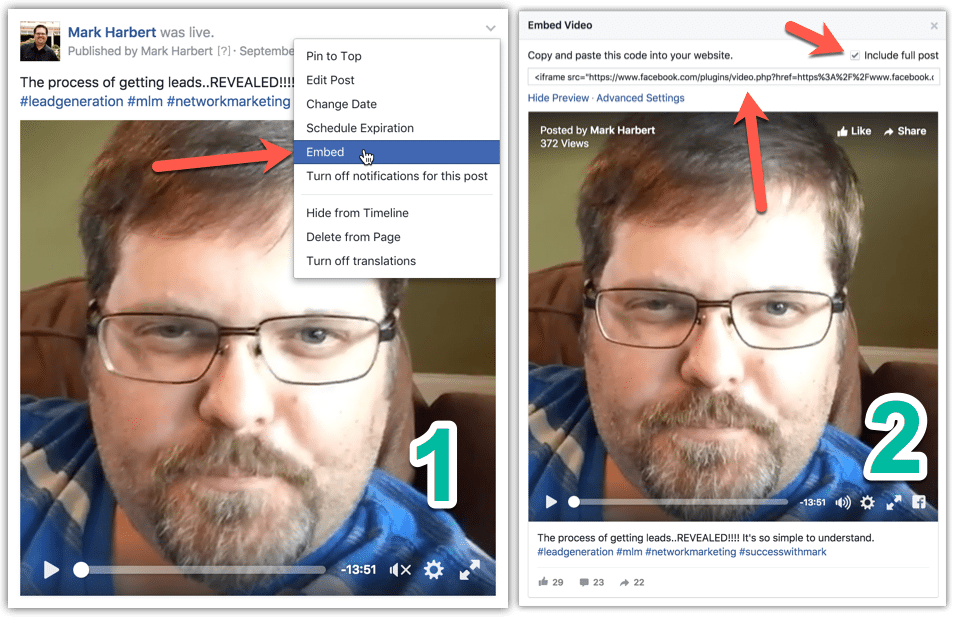 After you do that, you simply insert your embed code into your blog post where you want it to be.
If you don't have a blog, it is something I recommend if you want to build your business long term online.
Think of it as your home online.
If you don't have a blog and want to get started with one fast but you don't want one with all the traditional setup of a regular blog, I recommend you go here and watch this free presentation.
#3: Strip The Audio From Your Video and Turn It Into A Podcast
This is probably one of the least practiced strategies out there. Not only do people listen to podcasts, they do it in force.
Podcasting has become so popular because many can listen on the go while they are out and about.
Every single day when I leave the house I listen to podcasts.
As a matter of fact, I have learned gold nuggets from podcasts that have made me tons of additional revenue in my business.
It's super easy to do. If you are on a MAC, use this super and easy tool to strip your audio. It's called Audio-Converter.
If you are on a PC, you can use AVS4YOU, it's not free, but it's a great one that we use all the time.
As far as what podcasting service to use, I personally use Audello. If you want to check it out, click here.
Audello walks you through the complete set-up getting your podcast up and online as well as submitting it to the podcasting directories.
Conclusion
There are numerous ways to promote your live videos and this is just 3 of them. In the future, I will be giving you more ways to promote your videos. Live videos are without a doubt one of the fastest and easiet ways to get leads.
Hopefully, these three steps can show you exactly how to get as much out of each of your videos as possible.
If you are not sure where to start with videos, make sure you head on over to grab my free video series that reveals exactly how you can make video work for you.
You rock,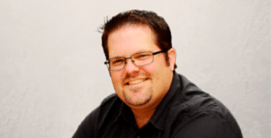 Mark Harbert
PS: If you get value from this post feel free to share it with your friends or teammates.