The key to creating success in any network marketing business is learning how to generate MLM leads regularly and consistently.
Without this, your business will fail and you will be done before you even get started.
After you start your Network Marketing career and start on the path to building your business, learning how to generate mlm leads will be one of the first challenges that you'll have to face as a new business owner.
The best way to get your first few leads, is to listen to what your upline leaders will teach you. After you have done this, you can focus on how to generate MLM leads using the internet or some quality offline strategies.
Typically your upline will have you to start off with a list of names from people in your immediate circle of influence including your family, friends, and co-workers.
I know it may seem a little "Old School" to pursue your family and friends as maybe you have heard online, but your goal is to expose your opportunity to as many people as you can when you start.
Some may think this doesn't work, but I couldn't disagree more, as I have seen it work, and I have seen people build 6 figure empires on this strategy alone.
So before you start generating mlm leads your own way, make sure you give the methods that have worked for 50+ years a try, you just might be surprised with your results.
Most people want to avoid their "warm market", and just learn how to generate mlm leads using the Internet!
Learning how to generate mlm leads using the internet is a great skill, but can take some time to learn. Get started fast by connecting with your relatives and friends and introduce them to your business first.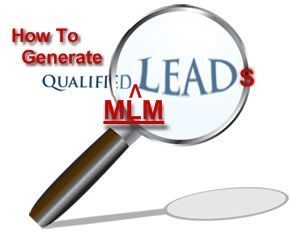 It is completely normal to share what we know first with the people closest to us.  You just never know who's looking for an opportunity and will say yes. Heck, you might even be surprised by who will say yes!
Once you've made a list with all of your family and friends, you want to qualify each of them.
The ones that are qualified leads are the people who are interested in what you have to share, are seeking to learn more, and are interested in moving on to the next step.
They may be beginners in the industry or existing networkers looking for other opportunities. Either way, an interested person is a qualified lead.
In order to get them to the close, here are a few tips that you can follow:
Clearly define how your business will benefit them personally
Get clear on what they really desire and be sensitive to their needs and wants.
Answer their questions and address their concerns. Instead of just saying "Help me in building my business", tell them "Join me and I will teach you how to build your business so that you can realize your dreams in life."
Don't ever talk bad about other MLM companies. Only focus on the good side of your business and give clear information to its advantages and benefits.
Ok, so now that you've qualified your prospects, you want to add more prospects into the pipeline.
This is not that difficult to do, just simply begin asking your family and friends, even the ones that were not interested if they know of anyone that may be interested, and keep doing the following to generate interest for more prospects:
Communicate your message by creating a simple presentation or product demo. Make sure that your message is focused and it provides information that they need and want to make a decision. (The best way to do this is by asking them questions)
Avoid jumping straight into your presentation. Start some conversation and warm up to them to break the ice first.
I urge you do not, in any way, bug them, try to convince them, or pull a guilt trip on your prospects into doing something that they don't want to do, this will only harm your business in the long run.
Communicate to them how the business benefited you and changed your life in a positive way.
Make sure you follow-up to get a decision. If they are interested in joining you, proceed to sign them up. If not, don't push it. You don't want to strain your relationship in any way as they may change their mind down the road.
You have to be willing to develop the skills to become a great network marketer and master presenter.  Focusing on how to generate mlm leads is a great skill to develop but you must start with the basics.
If you follow the guidelines above you will be well on your way to becoming one of the best prospectors who have followed this exact formula for success.