One of the biggest assets of a home business owner is your time. One of the best ways to give you MORE time for yourself and your business is through outsourcing online.
This post will show give you the outsourcing secrets that will allow you to build your business, without YOU having to build it. Or more accurately, without you having to do everything it takes to build it.
It's time to start delegating those tasks that you either don't enjoy doing or would be much better off letting someone else do. It's up to YOU to decide which of those things would be best to delegate!
Because of course, everyone has different skills and preferences. So this is a personal decision.
One of the biggest questions I get when it comes to outsourcing is "Where can I find good outsourcers".
It can be confusing and difficult to know who to trust. But the good news is that today you have more options than ever before to find highly qualified people to do tasks and for much less than you might expect.
Today I'll show you some of my favorite places to find those people so you can free up your time and start building your business at the same time!
Tasks to Outsource for Your Business!
One thing that most people don't realize is that you can outsource just about anything these days.
If you're a hands-on type of person who likes to take care of most things yourself, you can simply outsource the things you're not great at, or simply don't like.
Web design

Graphics

Search Engine Optimization

Copywriting

Social media

Email marketing,

Video editing

Content

Etc.
You name it, and there's someone out there who can do it and these days you can find them with a click of the button.
Not Sure Where to Start with Outsourcing?
If you're not sure what to outsource, your best bet is to make a couple of lists.
#1: Things I CAN Do
#2: Things I CAN'T Do
#3: Things I Don't Want to Do
#4: Things I Can Do But Don't Have Time For
This will give you a good idea of where you stand right now. And depending on your budget you can create as much free time as you want.
Once you've created your list, you'll want to take a close look at those on the 'CAN'T DO' list first. And with those, you'll want to start with the necessary tasks that MUST be done daily and consistently to grow your business. That's the best place to start.
Then as your earnings grow, you can start allocating your budget toward those things that you don't like doing next. And so on!
Or if you really want to be more hands-off for most of the daily tasks, you can hire a full-time virtual assistant. They'll handle all the back-end tasks that take up the greatest portions of your time. Heck, you can even get THEM to hire others to handle tasks for you.
You can take outsourcing as far as you want. But most people, especially when first starting are more apt to hire for the tasks that they aren't yet great at, so let's start there.
Where to Find Outsourcers!
The biggest challenge is simply figuring out where the heck to find good people to hire.
It can be confusing and nerve-wracking trying to figure it all out. So let's see if we can help you out here with some places that I've found luck with.
Fiverr.com
Fiverr is a great place to start. One of the reasons is that you can find good outsourcers pretty inexpensively (hence the name Fiverr!)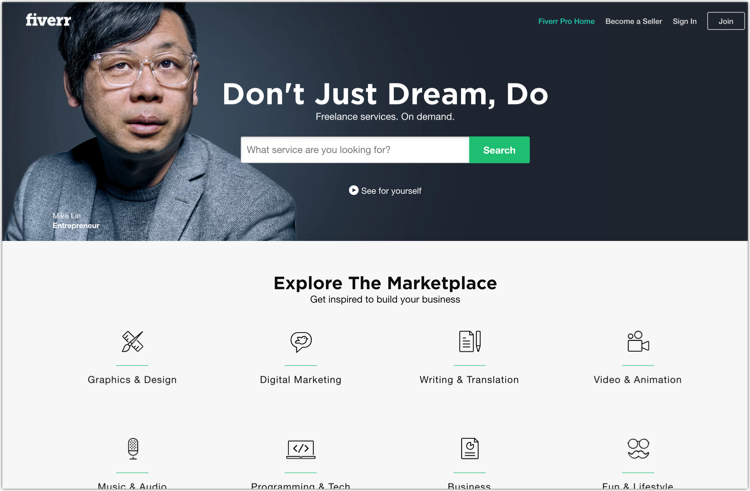 But don't let the name completely fool you. Because in the early days of Fiverr, you may have found an outsourcer for $5 bucks. However, like everything, $5 likely won't get you too far these days. And that's fine, because this is your business, and you want to get the best to do the job.
Hot Tip: Search with the "Bestselling" Filter to Find the Top Rated Outsourcers
Your outsourcers are a reflection of YOU! In other words, what they produce will be the impression you make on future prospects, leads, and buyers. So you'll want to be diligent about hiring the best for your budget
The best way to do that is by hiring those who have become "best sellers" on Fiverr. This means they've gotten top ratings, and have proven themselves over multiple outsourcers.
You can also scroll through reviews for any provider from past buyers on Fiverr to see what experiences others had. Plus, you can see some samples of their work, which is always recommended. Not to mention, Fiverr does make communication with providers simple.
I've personally hired people on Fiverr to do a number of things for my business. Many of them have become people I've hired multiple times. It's definitely a great place to start, and you can find a gem now and then. But to be fair Fiverr is mostly best for one-time tasks.
The downside is that you may have to kiss a few frogs to find your prince on Fiverr. Meaning you may hire someone who isn't what you hoped for. Which is why it's best to do your due diligence mentioned above before hiring.
Upwork.com
Another great place to find freelancers to outsource work to is Upwork.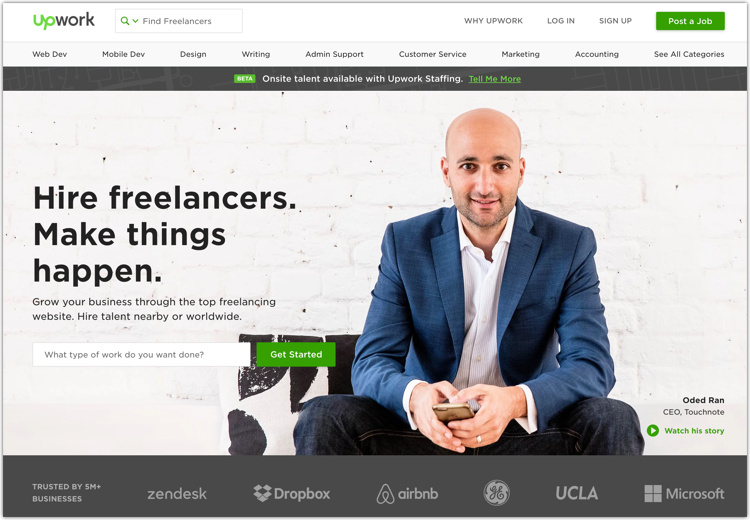 Those who have been around a while remember when Elance and Odesk were the places to find quality workers. Upwork is the culmination of the merger of those two companies.
And now it remains a great place to find some high-quality people to outsource to for just about anything you need.
Upwork is different from Fiverr by the fact that YOU post the jobs you need to be done, and freelancers will bid to get the job. To do so, they'll send you what's called a "cover letter".
It's important that you do your due diligence here.
One of the main things you'll want to be sure to do is be very specific when you post your job to get the right people bidding.
Be detailed about not just the task, but requirements of skills you want your outsourcers to have.
Of course, like anything good in the world, there are always some people to try to ruin it.
When you post a job to Upwork, you'll get many people who tend to bid on tons of jobs with a template cover letter. That's why within your description in your posting, you should add something specific for freelancers to add to their cover letter. Almost like a secret code.
You've maybe heard about the weird request that Van Halen used to put in their riders for venues that they would play on tour. They'd request that they get a bowl of M&M's, but there could be no brown M&M's.
The reason wasn't that they wanted to be divas!
It was because they knew that if the people weren't reading the riders in detail, that it could be dangerous for the band when on stage with all the pyro and large stage equipment.
You can channel your inner Van Halen when you create your descriptions inside Upwork!
The bottom line is that when you do your part with due diligence, you can find some very high-quality outsourcers on Upwork, with simple communication applications, and you can even track their time so you see if and when they're actually working on your Upwork gigs! 😉
Onlinejobs.ph
Ever wanted a virtual assistant to help you with tasks, but at prices that you can actually afford?
That's where Onlinejobs.ph comes in.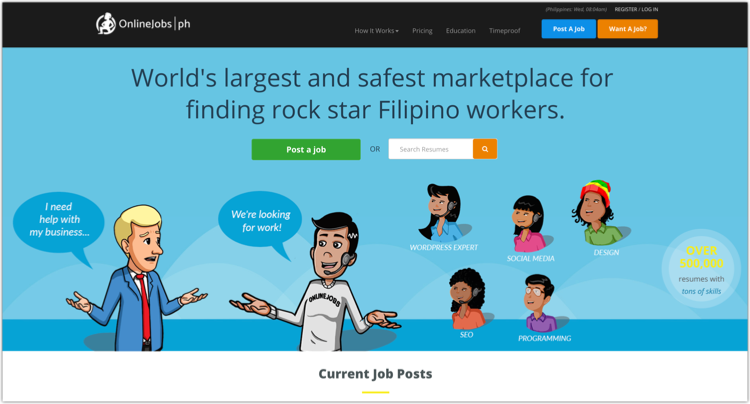 As you can see, this is a site for hiring Filipinos from the Philippines!
The reasons for this site being so great is simple.
Wages in the Philippines are much lower than those in the U.S., which means you can get high-quality workers for pennies on the dollar.

Filipino workers are often highly qualified, very diligent, and highly detailed workers.

Most of the workers on this site are highly fluent in English. This means there won't be a language barrier that you'll find with other countries and outsourcers!
As you can see there are some great benefits for hiring workers from the Philippines.
The one drawback that you might find is the time difference. If you're in the U.S. then you'll likely have an approximately 12-hour difference. This, of course, is not always a deal breaker, and many workers work through the night so it can work out!
I've found that this site is a great place to find virtual assistants for long-term work. They can take care of many of the behind the scenes tasks, and be quite proficient at it!
As a matter of fact, I have some AMAZING Filipinos that do work for me regularly and I love their attitude and work ethic. It's all just a matter of finding the right one.
Ready to Use These Outsourcing Secrets to Hire Your First Freelancers?  
The most important part as you've seen as a running theme in this post is to be diligent about your postings.
You'll want to make sure you talk to your outsourcers either on Skype or through an application that the sites use for messaging. But face to face video is always best when possible.
Also, start small. Give your outsourcers a test gig to see how they perform. If you like them, then you can up the ante a bit and give them something a little more involved.
You don't want to rush with outsourcing. Remember your outsourcers will reflect YOU and your business. Plus your aim is to free up your time, not give you extra work by having to micro-manage.
With enough patience and due diligence, you can eventually find some very trustworthy outsourcers to build your business for you!
Now go out there and start getting others to build your business for you in the new year!
You rock,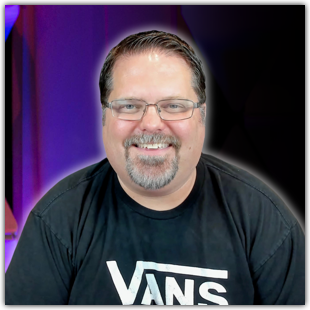 PS: Want to work directly with me? Click Here
PS: If You're Not Sure Where To Start… I Recommend This. (Unless You Already Have Too Many Leads! 🙂 )