This blog post is not necessarily my personal endorsement of Donald Trump but an evaluation from a marketers perspective on why he is doing so well in the 2016 Presidential polls.
Also, Donald Trump has NOT endorsed this post, it is merely me giving my own opinion of his success.
I encourage you to read this entire post and video as I can guarantee you will be enlightened by what I share as a marketer and how it applies to you.
For the most part I try not to get into politics as its very divisive and tends to be very negative and that is not my intention with this blog post.
However when it comes to election time, I do start to pay attention so I can be an informed voter and exercise my right at the voting booth.
I suggest you do the same no matter who you vote for or support for President.
I love marketing. I study it, I invest in training that helps me to be a better marketer online and a better teacher for my students and clients.
I study all marketing from brick and mortar businesses to large corporate businesses, to celebrities and politics.
Why?
Because I believe you can always learn from something that is done well even if you disagree with the message itself.
Love him or hate him, Donald Trump is a marketing genius as far as I am concerned.
Again not because I necessarily endorse him, but because of how he is marketing himself and his message to the american public.
Now wether you agree with me or not is one thing, but learning what he does and how he markets himself so you can apply it in your business is another.
Why Is Donald Trump Doing So Well?
Its actually really easy to understand when you look at it objectively.
Simplicity of his message and he is tapping into the emotions of people.
Thats really it. Think about this.
Let me give you one example.
A few years ago I read an article that talked about a study done on how to move more honey off the shelves at the grocery store.
There were two shelves full of honey. One shelf had 10 different varieties of honey and the other only one variety.
After running the test in a high traffic area the results were astounding.
The shelf with 10 different varieties only sold about half of what was there, while the shelf with one variety completely sold out.
Why did this happen?
Its simple actually, less choices and less confusion.
The more simplistic the choice and the message, the easier it is on the consumer to make a decision.
Whenever possible you want to always work on lowering buyer resistance not raising it. Higher buyer resistance means less sales.
To many details and to much information overwhelms busy people. People want simple choices that are very clear cut and to the point that gets to the heart of what they want.
This is the exact reason Donald Trumps is doing so well, his message is very simplistic and easy to get.
Again I am not saying I agree completely with his message, but this is why he is doing so well.
Why Doesn't Donald Trump Give More Specifics?
The reality is…. He does give specifics but not all at one time.
He gets blasted regularly by his rivals that say he doesn't give specifics, but what he is also doing is incredibly smart and brilliant if you ask me from a marketing standpoint.
He is systematically releasing his stance on issues one at a time and every time he releases a new policy paper the media shares it all around for him giving him massive exposure.
Why?
Because the perception is he doesn't give specifics and when he does finally give them everybody's curiosity has been peaked that they can't help but look.
He essentially is showing his stance on issues one chunk at a time and not overwhelming the people with facts and figures that the average person doesn't get.
He has created such a curiosity about his stance on issues that when he does give his opinion wether you like him or not, people flock to get the answer.
So does he give specific?
Yes he does, but over time and in easily digestible ways for everybody to understand.
How Can I Apply "The Donald Trump Effect" In My Business?
As if its not clear already by this blog post…… simplicity of your message.
Keep your message clear and simple. Tap into the emotions of what people want and give it to them in bite size chunks.
To many marketers are giving way to much way to fast and your prospects can't absorb it all.
Not because they are dumb, but because to much to fast is a recipe for confusion when a message of simplicity will always win in the end.
Will Donald Trump Win The Presidency Because of This?
I don't know as that is for all of us to decide when the time is right to exercise our rights in the voting booth.
But I will tell you this, which ever candidate keeps their message simple, easy to understand, and hits on the pain points of what people want, will ultimately win in the end.
From a marketers point of view thats what I see happening with Donald Trump.
Could I be wrong? Maybe, but I know most of the sales in my business have come from a simplistic message hitting directly at the pain points of my market.
If you want the same, keep it simple, precise, and attach emotion to your message.
The "The Donald Trump Effect" works and as a marketer I highly suggest learning from it as these principles can be applied to your business too.
You rock,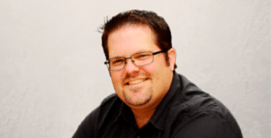 Mark Harbert
PS: Want A Simple Way To Start Getting Leads Online? Start With This. Click Here
PPS: If You Don't Have The Right Tools To Market Online But Need Them. Click Here