ViralInbox can take charge of your email inbox forever and not allow it to rule your life, or your precious production time. You are more than likely just like most people in our industry of internet and network marketing, you spend way too much time going through hoards of emails on a daily basis.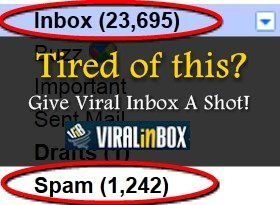 The question is….
What kind of time impact do you think this has on your business?
Let me put it to you this way, it more than likely decreases your productivity and slows your business down like a snail! Am I right? or am I right? Well not to long ago, I was a Gmail guy full on, and now I now consider Viralinbox the best email solution out there, hands down for internet marketers! It is literally your own viral mailbox.
This unique and powerful email system, list building solution, and marketing platform was developed by the founders of ViralURL, Colin Klinkert and Frank Bauer. Not only do these guys have their pulse on the industry and what is needed, but I have worked with these guys in the past and know they are stand up marketers.
Not only will ViralinBox help you be more organized and increase your productivity drastically, it will also help you promote and advertise your products and opportunities. ViralinBox will reward you with credits to send emails and advertise your products for doing things you already do every day, like reading an email!
This Viral inbox review will show you the extreame power that this service can do for your business.
Viralinbox – Key Features
– A unique email address for every list you join!
You can create them all on the fly (as you will see in the video below)! With Viral inBox, it's not necessary to create a new email box when you need a new email address at a place like Gmail or yahoo, because you can create 5, 10, 20, or an unlimited number of them from a single Viral inbox account (dependent upon which membership level you have)!
This is what I really love… You can create out of thin air a new email address using nothing but 'your brain'! When you give someone an email address that doesn't exist, the system automatically creates a new box when an email is sent to that address and it will show under the pending boxes for approval, how killer is that?. There are various domains you can choose from when you signup (ezvib, etc.)
– Kill spam with one click, and you don't even have to click the opt out link to do it!
Viralinbox will permanently stop spam with a one click! Because you create a new box for every contact you make and every list you join, you can see who is spamming you, and you can close the box at anytime! This will completely stop the spam, and you will NEVER receive an email from that list again!
– Email up to 60,000 prospects every month depending on your membership level!
ViralinBox also has some powerful marketing features built right in to the system. If you choose to upgrade to Platinum or higher, you will be able to use the system mailer. As a Platinum Member, you will receive 1,000 Mail Credits every day, and as a Diamond Member, you will receive 2,000 credits every day! This means you can email up to 60,000 every month! Imagine selling a $47 product! Even with a low conversion rate, you will make hundreds of dollars every time you send an email, or you can even generate a ton of leads from every mailing you send out!
– Earn credits for what you already do each and every day for mailing!
Here is just a few ways you can earn credits. Click on a link in an email you read, load a page where an advert is shown, and you will earn credits, so you can promote and advertise your own products! That's MASSIVE, highly targeted exposure FOR YOU! When I first got into the system and set up my banners and advertisements, I generated 6 leads in the first day, that was AWESOME! It truly is viral email at its best.
– Build a list fast and earn above industry-average commissions!
Viral inBox comes with a list builder feature that allows you to build a 5 to 8 level downline, and earn commissions of every referral you make (up to 55%) and sometimes when the promotions are going, you can make them on FREE referrals as well. You can earn additional storage space for your emails every time you refer a member, up to 50,000 MB of storage space! You will NEVER have to delete an email again after that!
If you're serious about doing business online, I highly suggest you join Viral inBox NOW (even at the FREE level) and start increasing your work productivity.
If you read my post and watched my video on How To Eliminate Distractions, you can see why I am so passionate lately about getting organized and taking action.
I put together a video to show you the inside of the Viralinbox system and you can see for yourself how powerful it is….Enjoy it!
[youtube]http://www.youtube.com/watch?v=PtKET2–WGA[/youtube]