Reliv is a network marketing company and you might be wondering…. Is this a scam? Is this company the real deal? You're here for mainly one of two reasons and that is that you are either an existing distributor for Reliv and you're looking for ways to build your business, or you're looking for information on this company before pulling the trigger and joining.
Either way, you will find what you're looking for in this article.
Reliv – The Company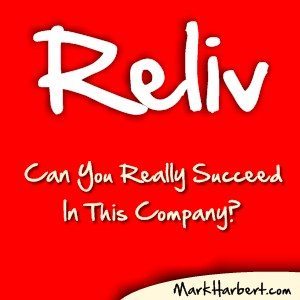 Reliv International is a health and wellness company that offers a unique business opportunity. As a standard multi-level marketing business, the company offers a variety of incentives and bonuses for distributors of the products. MLM is an excellent opportunity for anyone who has wanted to own their own business but does not have the capital to create a product that they want to sell.
Multi-level marketing or direct selling is when you sign on as a distributor for a low fee and have access to hundreds of products and the reputation of a company to back up what you are selling.
Reliv International was founded in 1988 by Robert Montgomery. The company specializes in nutritional supplements, sports drinks and weight management products. While many direct selling companies tend to collapse after a few years, this company has managed to thrive in a competitive market for over 30 years. Few companies hold the same reputation and longevity as Reliv International.
Reliv – The Products
The health and wellness market is one of the most competitive in the direct selling industry. There are dozens of similar companies offering products much like the ones that Reliv International manufacturers. Reliv offers a unique business opportunity that costs very little to get started. While the other competitor companies are charging hundreds of dollars for new distributors, Reliv only charges $39.95 and there is no required product investment. This means that for $40.00 a person can get started with the business and utilize catalog sales of a well-known brand to start making money.
The first product developed by Reliv International was the power supplement. This is still offered today and is still the top-selling product. The company have nearly 100 different natural supplements that help regulate digestive function, improve brain function, fight off hormones that cause the body to store fat and much more. The health and wellness industry is currently an 8-billion dollar market which Reliv has had their foot in for over 30 years.
[youtube]http://www.youtube.com/watch?v=XLAKo8cGILo[/youtube]
Reliv – The Opportunity
As a distributor for the company you will earn 25% profit on all products that are sold. This is a reasonable amount and is the average for most direct selling companies. As your business grows you can move up within the ranks and start earning as much as 40% profit on products sold. In order to achieve this status you must generate a specific amount of business volume each month and keep that amount flowing for months and into the future.
Additional bonuses and incentives are earned by building a team of distributors known as downline beneath you. Reliv International distributors are able to gain additional percentages based on sales for the first level of distributors below them.
Reliv International is known to be a solid business opportunity with a history of providing quality products to the consumer. They make no promises that you will earn hundreds of dollars in your first month but work diligently to provide the right tools, training and information to make all of their distributors a success.
Reliv – Marketing This Opportunity Successfully
Being around over 30 years is a major accomplishment and just that fact alone should show you the legitimacy of this company. So if you are looking for a Reliv scam of some sort, be assured that this company is the real deal and has the success to prove it.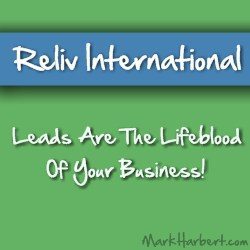 Even with all the success of Reliv International and a great product to boot, you cannot and will not succeed if you don't master the skill of marketing and lead generation. This skill is so vitally important and crucial to your success, that if you don't master it for your Reliv business, you will not succeed.
Kind of a bold claim you think? Well lets just say that I have been in this industry long enough to know that most distributors struggle with lead flow. The truth is, lead flow is the lifeblood of your business. So much so that without them you are a ship without a sail so to speak.
So much emphasis is put on the product and the comp plan, but where the real emphasis needs to be placed is how to generate leads for your Reliv business.
The truth is, bugging your friends and family will only take you so far in your business. Once you burn through your warm market you must take to the streets in shopping malls or the gas stations to get now prospects, but if you don't know how to do it properly, you will not succeed.
The internet has an unlimited and never-ending supply of fresh targeted leads for you to generate, you just need the strategies and training to learn how to generate them. Once you master the skill of lead generation, you will never have to worry about who is going to join you next, because you list is full of hungry people who want to join you.
So where do you begin to get the training to generate your own leads?