So you just paid your money and now you're looking for some MLM tips that will help you build your business effectively. Well here is a few that will set the foundation for you as you move forward and will help you come out of the gate running.
MLM Tips # 1 – Set clear goals that are attainable
Now that you have joined the right team and the right company, the very first goal you should have is setting a plan of action in which you have distinct, measurable, attainable, and practical goals.
Begin by jotting down your daily goals, your weekly goals, and your monthly goals and be as unique and detailed as possible.
For instance, maybe you want to generate more leads each day for your business. Break it down and get specific on the details and marketing strategies you want to carry out to make it happen.
Another point is to go into detail about how much money you want to generate on a weekly or monthly basis. It is also important to distinguish the amount of people you'd want as customers and how many people you want as business partners per month.
The most important part is to also make sure you write down the rewards that you will give yourself for reaching each goal you attain. It's very important to reward yourself for working and sticking to your plan of action.
Out of all the MLM tips listed here, this is very key and very fundamental to your success.
MLM Tips #2 – Stick to a schedule
To become productive during your career in network marketing you must teach yourself to stick to a strict schedule that you can follow consistently and faithfully.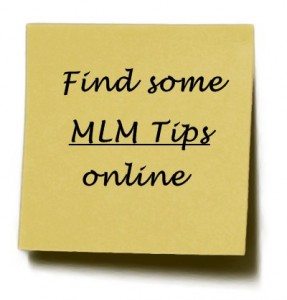 Dedicate a minimum of 10 to 15 hours per week to concentrate solely on your business. Utilize your time wisely by knowing exactly what you will do with all the time you have scheduled.
Save some specific time for marketing activities like generating leads as this really is the lifeblood of your business, so there should be major importance put on this specific activity.
Also, take the necessary time to plan your schedule a minimum of one week ahead of time. Doing this will help you to avoid the common pitfalls and distractions that are certain to come up while trying to build your business.
By following #1 of the MLM tips listed here, this will tip #2 will help you to carry it out.
MLM Tips #3 – Learning is a never-ending process
Time is something you can never get back and your most precious asset in business. Waste it, and you will never get to where you want to go.
If you're just starting out, you need to learn what this awesome industry is all about. The learning journey is something that should be embraced in your career in this industry.
Take what you learn, implement it, and then go back and learn some more. These MLM tips are affective but understand it's a constant process that you must learn to enjoy even when you're making a million or more per year.
Learning does not stop when you have learned the industry. Broaden your horizon so you can learn about new ideas, routines, and practices. These will only make you better. Learn new marketing skill sets that will help you bring in more prospects for your business.
It's important to learn as much as you can, and the most important part is to practice it faithfully once you learn what works.
MLM Tips #4 – Keep your mindset and attitude in a positive state
Have you heard the term "Freedom isn't free" well guess what "Success isn't free" either. It doesn't matter what MLM organization you join, it will not bring you massive wealth overnight or even in one month.
Don't be surprised if you face disappointments, rejection, and crappy responses from people in the beginning. Never be very hard on your self if things do not go your way.
When you have a negative experience look at it as a positive stepping stone to what your goal is and it will be easier to move forward.
Every six and seven-figure earner has had these exact same experiences you have had, and they chose to keep their attitude and mindset in check and moved on to reach their goals in-spite of the challenges they were facing day by day.
As you improve your skills in your business, you'll will learn certain MLM tips on how to handle challenges and use them as fuel to get you where you ultimately want to go.
MLM Tips #5 – Understand, there is no success inside of your comfort zone
If you have not attempted multi-level marketing in the past, it's probably safe to say your just beginning to understand this industry and what it takes to succeed.
But the most important of MLM tips, is to always strive to reach and push yourself to learn and grow outside your mental limitations.
You must learn to clearly define where your limits are in regards to your skill sets, and then push yourself beyond them. This is what makes great network marketing leaders, and this is what will take you to the heights of success that you desire.
My favorite saying is "Successful people feel the fear, and then they do it anyway". Adopt this mindset, and you will be well on your way to success in your business.